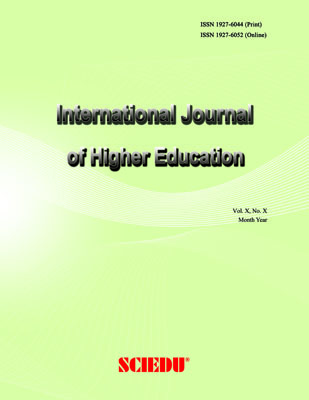 International Journal of Higher Education (ISSN 1927-6044  E-ISSN 1927-6052) is a double-blind peer-reviewed journal, published by Sciedu Press. The journal seeks to publish original research articles that are hypothetical and theoretical in its nature and that provide exploratory insights in the fields of educational theory, teaching method, instructional design, students management, case studies etc. in both undergraduate and graduate levels. The editorial board aims to publish high-quality research or review papers focusing on teaching, researching, training and applied work in the field of higher education. The journal is published in both printed and online version. The online version is free access and download.
This journal accepts article submissions online or by e-mail (ijhe@sciedupress.com).
ABSTRACTING AND INDEXING:
------------------------------------------------------------
Open Access Policy:
This journal provides immediate open access to its content on the principle that making research freely available to the public supports a greater global exchange of knowledge.
Copyright Policy:
Copyrights for articles are retained by the authors, with first publication rights granted to the journal. Authors have rights to reuse, republish, archive, and distribute their own articles after publication. The journal/publisher is not responsible for subsequent uses of the work.
This journal is licensed under a Creative Commons Attribution 4.0 License.
------------------------------------------------------------
Statistics
2022: Articles Received: 162; Accepted: 91; Rejected: 69; Published: 138; Retracted: 0
2021: Articles Received: 304; Accepted: 210; Rejected: 114; Published: 138; Retracted: 1
2020: Articles Received: 879; Accepted: 337; Rejected: 501; Published: 291; Retracted: 3
2019: Articles Received: 438; Accepted: 216; Rejected: 194; Published: 189; Retracted: 0
2018: Articles Received: 206; Accepted: 140; Rejected: 65; Published: 111; Retracted: 0
2017: Articles Received: 166; Accepted: 119; Rejected: 44; Published: 112; Retracted: 0
2016: Articles Received: 171; Accepted: 118; Rejected: 51; Published: 103; Retracted: 0
2015: Articles Received: 145; Accepted: 88; Rejected: 43; Published: 72; Retracted: 0
2014: Articles Received: 120; Accepted: 78; Rejected: 39; Published: 58; Retracted: 0
2013: Articles Received: 127; Accepted: 79; Rejected: 39; Published: 71; Retracted: 0
------------------------------------------------------------
Issues 
------------------------------------------------------------
What is e-Version FirstTM
e-Version First is a feature offered through our journal platform. It allows PDF version of manuscripts that have been peer reviewed and accepted, to be hosted online prior to their inclusion in a final printed journal. Readers can freely access or cite the article. We aim to publish accepted manuscripts in e-Version First in two week's time after the final draft completed.
------------------------------------------------------------
Paper Selection and Publishing Process
a) Submission Acknowledgement
When you submit a manuscript online, you will receive a submission acknowledgement letter sent by the online system automatically. For email submission, the editor or editorial assistant sends an e-mail confirmation to the submission's author within one to three working days. If you fail to receive this confirmation, please check your bulk email box or contact the editorial assistant by email: ijhe@sciedupress.com.
b) Basic Review
After receiving the submission, the editor or editorial assistant checks the paper's scope, language, bibliography, references, ethics, conflict of interest, etc.. Next a check for the similarity rate is done using CrossCheck, powered by iThenticate. Any manuscripts out of the journal's scope or containing plagiarism, including self-plagiarism, are rejected.
c) Peer Review
We use double-blind system for peer-review. The paper will be peer-reviewed by at least three experts; two reviewers from outside and one editorial staff from the journal typically involve in reviewing a submission. The review process may take 4-10 weeks. 
d) Decision Is Made
The decision to accept or reject an article is made based on the scores provided by the reviewers on this paper. When the average score is ≥2.75/5, the paper would be accepted for publication. In most cases, authors are required to revise the paper according to the comments from the reviewers and editorial staffs. If differences of opinion occur between reviewers, the editor-in-chief will weigh all comments and arrive at a balanced decision based on all comments, or a second round of peer review may be initiated.
e) Notification of the Result of Review
The result of review will be sent to the corresponding author and forwarded to other authors.
f) Article Processing Charge Is Paid
If the submission is accepted, the authors revise paper and pay the Article Processing Charge (600.00USD).
g) Publication Notice
The authors and readers will be notified and invited to visit our website for the newly published articles.
Announcements
Message from the Editor-in-Chief Dr. Ingrid Harrington (Vol. 12, No. 1, February 2023)

To all our Journal's readers and followers, a warm welcome to our first issue of 2023! I hope this year promises to be more fulfilling, enjoyable and productive than previous years for us all. In this issue, we learn from papers on higher education practices by authors from Thailand, Saudi Arabia, Nigeria, Morocco, and Jordan just to name a few, share their focus on teaching, learning and assessment in education, and issues of training and human resources in industry and learning institutions. 

 

The first article by Phumdandin and Wongchantra explores the efficiency of environmental teaching using Creativity–Based Learning (CBL), to compare the environmental knowledge, the attitudes towards environmental conservation and the environmental problem-solving thinking ability of students. Their findings included that whilst the environmental knowledge, the attitudes towards environmental conservation, and the environmental problem-solving thinking ability of the students of different genders were not different, their attitudes towards environmental conservation and environmental problem-solving thinking ability were not different.  The second article by Buck and Martin investigated an assessment framework that enables estimation of the dynamic nature of mental constructs as students make gains towards coherency of knowledge and understanding. The framework emphasizes the value of iterative assessment combined with multivariate methods borrowed from ecology for revealing and following gains in student thinking. Their findings revealed that students take a multitude of pathways to concept mastery, and that they struggled to succinctly construct and communicate comprehensive evolutionary models.  The third article by Ishaq Al-Naabi explored the potential of professional development webinars offered to university language teachers in transforming their online pedagogies. The results revealed that webinars enabled teachers to resolve some misconceptions about online teaching and learning, enhanced their critical reflection on their online teaching practices, and formed some new practices of online pedagogy. The study provided some implications for higher education to enhance professional development webinars. 

 

The fourth article by Dobela and Seboni examined the attitudes of engineering students and their academic performance towards both prerequisite courses for and the final year project (FYP), given the need to increase the current level of understanding of attitudes and performance in the context of engineering students. Their findings report that the majority of students struggle with project progress as compared to other stages of the FYP, due to inadequacy in fundamentals such as design, and have implications on engineering education in relation to informing policy decisions on engineering program structure. The fifth article by Stoffberg and colleagues examined the relationship between educational qualifications and job performance among university staff in academic administrative positions, where the relationship and relevance of academic administrative staff in a university in the Western Cape province of South Africa, is not understood by the administrative managers of the university. Their research helped to determine the preferred educational levels for academic administrative positions of varying complexity, and provides the University with additional guidelines to recruit staff who are most likely to impact organizational objectives positively. The sixth article is from Gebremariam and colleagues explored how cooperative learning was employed at technical and vocational colleges in southwest Ethiopia to manage student diversity. Their findings report that trainees had more favourable perceptions of students' diversity management in the application of cooperative learning than did the trainers. Cooperative learning was found to work better in diverse classrooms than in monolithic groupings. Our final article for this issue is from Kwon and Shwarzer who describe a foundational course designed for international graduate students in a public university in the Northeast USA. The course was developed to provide support and guidance for practitioners and researchers who work closely with international graduate students through transcultural/translingual and whole-person approaches. Their findings confirm that students engaged with a foundation course better prepares international graduate students for academic success in their first term. 

 

What an interesting first issue for 2023, has turned out to be! With that, I would like to thank all authors, reviewers and editors for making this issue possible.  Please continue to support us for publications of future issues. 

 

Warm regards and the season's greetings,

 

Dr Ingrid Harrington

Senior Lecturer, Classroom Behaviour Management

Coordinator, Commencing Student Success Program

School of Education, Faculty of Humanities, Arts, Social Sciences, Education (HASSE)

University of New England, Australia

& Editor-in-Chief, International Journal of Higher Education

https://orcid.org/0000-0002-1898-4795

Posted: 2022-12-23
More...

ERIC Metrics Report Generated for: International Journal of Higher Education

This report shows the number of views of the ERIC records for your content and the number of PDF downloads if you permit the full text to display in ERIC.

These statistics are for the six-month period from July 1, 2022 to December 31, 2022.

A view is counted whenever a user accesses the abstract.
A download is recorded whenever a user opens the PDF attached to the ERIC record.

This report is only for your content hosted on the ERIC digital library of education research at https://eric.ed.gov. It does not include the views at third-party providers of ERIC or at the publisher's website. You can learn more about the metrics report in this video: https://www.youtube.com/watch?v=Z9-5yRKMW5o.

The first table shows the total visits and downloads for your currently indexed source(s). In the "Views and Downloads" column the total views are visualized in green and downloads in blue. The table is followed by a list of up to ten (10) articles or document titles with the most total views for each source. We are unable to give statistics for all articles.

If your method of submission is email (ERIC@ed.gov) or an ERIC ftp account, be sure to send your current content. New records for your content are available in ERIC 8-10 weeks after we receive it.

If you have questions or need assistance contact us at ERICRequests@ed.gov.

Looking to link to ERIC records on your website? ERIC has developed an API that can help you query the ERIC metadata. For more information and tips see https://eric.ed.gov/?api.

| | | | |
| --- | --- | --- | --- |
| Source Name | All Views | All Downloads | Activity Chart |
| International Journal of Higher Education | 72,307 | 45,997 |   |

International Journal of Higher Education

| | | | |
| --- | --- | --- | --- |
| Title | URL | Views | Downloads |
| Understanding and Applying Research Paradigms in Educational Contexts | | 3,945 | 2,072 |
| Distinguishing between Theory, Theoretical Framework, and Conceptual Framework: A Systematic Review of Lessons from the Field | | 3,502 | 1,966 |
| Mental Health and Academic Performance of First-Year College Students | | 2,772 | 981 |
| EFL Students Perspective towards Online Learning Barriers and Alternatives Using Moodle/Google Classroom during COVID-19 Pandemic | | 1,259 | 544 |
| The Emotional Impact of Social Media in Higher Education | | 1,177 | 930 |
| A Study on the Usefulness of Audio-Visual Aids in EFL Classroom: Implications for Effective Instruction | | 1,106 | 446 |
| Academic Performance, Employment, and Sleep Health: A Comparison between Working and Nonworking Students | | 1,085 | 837 |
| Understanding the Most Important Facilitators and Barriers for Online Education during COVID-19 through Online Photovoice Methodology | | 933 | 356 |
| Motivating Factors for Adult Learners in Higher Education | | 864 | 412 |
| A Paradigm Shift of Learning in Maritime Education amidst COVID-19 Pandemic | | 829 | 250 |

 

Posted: 2021-07-04
More...

Call for Papers: IJHE Special Issue - 'Teaching, learning and the student experience'

In order to better serve our academic community and deal with more focused topics with high current interest, we decide to publish a special issue in August, 2023. In this special issue, we invite authors to submit review and original articles on the theme of Teaching, learning and the student experience.

Theme: Teaching, learning and the student experience

It includes:

Learning modes, feedback, and assessment
Models and spaces of learning and teaching
Curricula and assessment for effective learning
Indigenous education and knowledges
Data-informed analytics to enhance and support learning
Academic and learning support
Student diversity, inclusion, identities, promoting success
Challenging disciplinary boundaries
Learning technologies and the expansion of the classroom
International and interprofessional education
The COVID-19 pandemic and its impact on learning success.

The paper should be written in professional English. The length of 3000-8000 words is preferred. All manuscripts should be prepared in MS-Word format, and submitted online: http://ijhe.sciedupress.com or sent to: ijhe@sciedupress.com

Dates and Timelines 

The special issue will be published on August 25, 2023.

The submissions window opens on March 10, 2023.

Paper Submission deadline: July 1, 2023

For any further information about special issue, please contact with us by email:  ijhe@sciedupress.com

Thank you for your time reading this announcement and I am looking forward to receiving your submission.

Posted: 2021-01-11
More...

Call for Papers---International Journal of Higher Education

We are seeking submissions for forthcoming issues published in April and June 2023. The paper should be written in professional English. The length of 3000-8000 words is preferred. All manuscripts should be prepared in MS-Word format, and submitted online: http://ijhe.sciedupress.com or sent to: ijhe@sciedupress.com

For any further information about the journal, please log on its website: http://ijhe.sciedupress.com

Deadline for Submission (April Issue): March 25, 2023

Deadline for Submission (June Issue): May 25, 2023

Posted: 2022-12-20
More...
Vol 12, No 2 (2023): [In Progress]
International Journal of Higher Education, Vol. 12, No. 2, April 2023
Table of Contents
Articles
| | | |
| --- | --- | --- |
| | Jana-Kristin von Wachter, Doris Lewalter | p1 |
| | | |
| --- | --- | --- |
| | Mercedes F. Bernal Lloréns, Juan P. Sánchez-Ballesta | p27 |