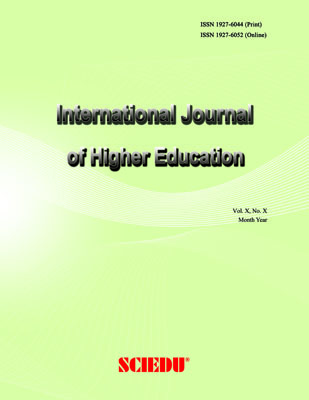 International Journal of Higher Education (ISSN 1927-6044  E-ISSN 1927-6052) is a double-blind peer-reviewed journal, published by Sciedu Press. The journal seeks to publish original research articles that are hypothetical and theoretical in its nature and that provide exploratory insights in the fields of educational theory, teaching method, instructional design, students management, case studies etc. in both undergraduate and graduate levels. The editorial board aims to publish high-quality research or review papers focusing on teaching, researching, training and applied work in the field of higher education. The journal is published in both printed and online version. The online version is free access and download.
This journal accepts article submissions online or by e-mail (ijhe@sciedupress.com).
ABSTRACTING AND INDEXING:
------------------------------------------------------------
Open Access Policy:
This journal provides immediate open access to its content on the principle that making research freely available to the public supports a greater global exchange of knowledge.
Copyright Policy:
Copyrights for articles are retained by the authors, with first publication rights granted to the journal. Authors have rights to reuse, republish, archive, and distribute their own articles after publication. The journal/publisher is not responsible for subsequent uses of the work.
This journal is licensed under a Creative Commons Attribution 4.0 License.
------------------------------------------------------------
Statistics
2022: Articles Received: 162; Accepted: 91; Rejected: 69; Published: 138; Retracted: 0
2021: Articles Received: 304; Accepted: 210; Rejected: 114; Published: 138; Retracted: 1
2020: Articles Received: 879; Accepted: 337; Rejected: 501; Published: 291; Retracted: 3
2019: Articles Received: 438; Accepted: 216; Rejected: 194; Published: 189; Retracted: 0
2018: Articles Received: 206; Accepted: 140; Rejected: 65; Published: 111; Retracted: 0
2017: Articles Received: 166; Accepted: 119; Rejected: 44; Published: 112; Retracted: 0
2016: Articles Received: 171; Accepted: 118; Rejected: 51; Published: 103; Retracted: 0
2015: Articles Received: 145; Accepted: 88; Rejected: 43; Published: 72; Retracted: 0
2014: Articles Received: 120; Accepted: 78; Rejected: 39; Published: 58; Retracted: 0
2013: Articles Received: 127; Accepted: 79; Rejected: 39; Published: 71; Retracted: 0
------------------------------------------------------------
Issues 
Vol. 12. No. 1

 [In Progress]
------------------------------------------------------------
What is e-Version FirstTM
e-Version First is a feature offered through our journal platform. It allows PDF version of manuscripts that have been peer reviewed and accepted, to be hosted online prior to their inclusion in a final printed journal. Readers can freely access or cite the article. We aim to publish accepted manuscripts in e-Version First in two week's time after the final draft completed.
------------------------------------------------------------
Paper Selection and Publishing Process
a) Submission Acknowledgement
When you submit a manuscript online, you will receive a submission acknowledgement letter sent by the online system automatically. For email submission, the editor or editorial assistant sends an e-mail confirmation to the submission's author within one to three working days. If you fail to receive this confirmation, please check your bulk email box or contact the editorial assistant by email: ijhe@sciedupress.com.
b) Basic Review
After receiving the submission, the editor or editorial assistant checks the paper's scope, language, bibliography, references, ethics, conflict of interest, etc.. Next a check for the similarity rate is done using CrossCheck, powered by iThenticate. Any manuscripts out of the journal's scope or containing plagiarism, including self-plagiarism, are rejected.
c) Peer Review
We use double-blind system for peer-review. The paper will be peer-reviewed by at least three experts; two reviewers from outside and one editorial staff from the journal typically involve in reviewing a submission. The review process may take 4-10 weeks. 
d) Decision Is Made
The decision to accept or reject an article is made based on the scores provided by the reviewers on this paper. When the average score is ≥2.75/5, the paper would be accepted for publication. In most cases, authors are required to revise the paper according to the comments from the reviewers and editorial staffs. If differences of opinion occur between reviewers, the editor-in-chief will weigh all comments and arrive at a balanced decision based on all comments, or a second round of peer review may be initiated.
e) Notification of the Result of Review
The result of review will be sent to the corresponding author and forwarded to other authors.
f) Article Processing Charge Is Paid
If the submission is accepted, the authors revise paper and pay the Article Processing Charge (600.00USD).
g) Publication Notice
The authors and readers will be notified and invited to visit our website for the newly published articles.
Announcements
Message from the Editor-in-Chief Dr. Ingrid Harrington (Vol. 11, No. 6, December 2022)

Another year has passed quickly, and I'd like to take this moment to ask all of us to reflect upon the highlights of our professional and personal year. Too often we progress from deadline to deadline, significant dates and events, and once passed, we fail to remember and again enjoy these highlights that defined parts of our year. In our hometowns and on the broader global scale, some of us may remember events with mixed feelings and regret, whilst others rejoice with national pride. As such, our work as academics to disseminate important research findings and promote our cultural diversity and knowledges, is more important than ever. The IJHE continues to provide an important forum for the development of theory, the addressing of policy questions, and the dissemination of innovative practice in the field of tertiary education, specifically widening participation and lifelong learning.  I am proud to be a part of the successful promotion of widening participation in tertiary education and lifelong learning.

 

This edition includes 12 articles with a strong theme of distance learning tools and strategies adopted in response to the COVID-19 pandemic. Articles from all parts of the globe feature, specifically interesting research from Israel, Thailand, Saudi Arabia, Greece, South Africa, Germany, and Turkey.

 

The first article by Heled and colleagues differentiates between three types of academic institutions that train school counsellors in Israel: Universities, education colleges and academic colleges. Their study considered how professional counsellors evaluate the efficiency of academic studies to the school fieldwork, and the impact on their personal and group professional identities. They concluded that it is important to develop evaluation of school counselling students in their training to support personal and group professional identity. Their research findings raise pointed questions about the efficiency of training for school counsellors in academia, and in all educational institutions. Maphalala, et.al.'s study explored secondary teachers' experiences with the transition to remote learning during the COVID-19 pandemic lockdown, and their readiness to embrace online learning as the second wave of the COVID-19 pandemic affected the globe. The study found that schools encountered a variety of digital complexities to overcome such as digital literacy and online teaching capabilities, multimodal learning, post-lockdown teaching and educational leadership and appropriate learning management systems. The third article by Talmor and Reshef investigated a process of developing and improving an introductory academic course in management and logistics for a Bachelor of Arts (BA) program, using an action-research approach. The study's results encourage curriculum developers in academic institutions to view the curriculum and its creation as an ongoing process, and to explore varied ways to teach it. The findings also highlight the value of a student-centred approach to academic teaching and curricula development, that calls for acute awareness of potential variation in students' experience and abilities. The fourth article by Zondo and Mncube considered how South African teachers deal with misbehaving learners in schools. Since the use of corporal punishment and other punitive measures in dealing with misbehaving learners is now illegal, alternative positive disciplinary measures were put in place. Their study examined teachers' and learners' experiences in respect of the implementation of a learners' code of conduct, to instil positive discipline in schools. The findings revealed that whilst some teachers implemented such a code of conduct that communicated learners' expected behaviour by outlining the rules and regulating behaviour, the code of conduct did not instil positive discipline across the board as many learners continued misbehaving. The study recommends that schools ensure that a proper code of conduct be drawn up to help teachers address learner indiscipline, and that officials from the Department of Education undertake regular visits to schools to offer support and arrange workshops/internet-based training to guide teachers on how to use such a code effectively. The next article by Kaspi-Tsahor used Salamzadeh and Kirby's (2017) venture-creation model and Gardner's (1983) multiple-intelligences theory, to examine the correlation between entrepreneurial skills and multiple intelligences of entrepreneurs, as well as their influence on success in high-tech ventures. The results indicate that the most successful entrepreneurs have the highest levels of logical intelligence, but also the lowest levels of linguistic, intrapersonal, and interpersonal intelligences. Entrepreneurial skills were found to be related to all types of intelligences, as well as to success in entrepreneurial ventures.  The sixth article by Nuntasomboon and Wongchantra report on the development of a participatory environmental education learning activity manual for the sustainable environmental management of communities in the Lampan sub-district, Muang district, Kalasin province (SDMDKOP). Their study explored the levels of knowledge, attitudes, and participation in sustainable participative environmental management of household heads in SDMDKOP, and compared these levels by occupations and incomes. Their findings report a number of differences in the levels of knowledge, attitudes, and participation. Adamopoulou, et.al's research interrogated higher education students' experiences and reflections on a short-term interprofessional exchange, that aimed to promote mental health and psychosocial support for refugees. Participants were higher education students from Germany, Greece, Sweden, and Spain representing the fields of psychology, occupational therapy, social work, pedagogy, medicine, and nursing. Their findings highlight the value of short-term interprofessional exchanges for preparing higher education students in health and social care to move and be responsive in intercultural societies and contexts.

 

The eighth article by Abeer Alharbi examined the efficiency of web-based asynchronous discussions in establishing and sustaining online collaborative learning communities in the Saudi higher educational context, by adopting the Community of Inquiry (Garrison et al., 1999) framework as a guiding model. The findings show that within the Saudi university context, social presence patterns changed over time with an overall increase in their levels. This increase attributed to three main factors: the instructors' effective participation; peers' active contribution; and the student's desire to receive higher marks. However, the levels of students' cognitive presence did not show adequate growth, which is assigned mainly to an inadequate teaching presence. The ninth article by Huber, et.al., exemplified two successful implementations of a flipped classroom approach using the computer-based learning environment Toolbox Teacher Education (TTE) integrated into two separate university courses. Their study reports how the TTE could be implemented in a flipped classroom to learn and teach successfully. The tenth article described practitioner involvement in biochemistry education research as a potential means to address the gap between research and practice.  The team used phenomenology as a lens through which to view the faculty experiences participating in a team-based curricular redesign. Their findings add to the available data for student conceptual understanding in biochemistry, and suggest that shared assessments like a concept inventory can unify instructors as they engage in a team based curricular reform. The eleventh article was motivated to create a mixed-reality teaching simulator module to attend to the unique needs of chemistry international teaching assistants to prepare them for active learning instruction. Their research findings sets the foundation to generating a transformative set of training materials that institutions can use to lessen teaching anxiety and increase effectiveness of ITAs in the classroom, thus enhancing student learning through more effective active learning instruction. The final article by Omer Ulum reports on the incorporation of critical race theory, critical anti-racist pedagogy, radical pedagogy, critical consciousness, and critical resistance into ELT, EFL and ESL settings and curricula, since whiteness and white supremacy have been the dominant discourses in the west perceiving whiteness as Self and blackness as Other.  The study recommends that ELT departments in Turkey can adopt an inclusive educational policy and radical pedagogy by taking the issue of racism into consideration to open room for a more liberal, equal and just society.

 

I sincerely hope that the broad range of topics and information shared, are of benefit to our readers. Importantly, I would like to thank all contributors and reviewers who continue to make the timely publication of the current issue possible.  I look forward to receiving more contributions from researchers and practitioners for our future issues. I would like to wish all our contributors and readers the very best with their research studies.

 

Warm regards and the season's greetings,

 

Dr Ingrid Harrington

Senior Lecturer, Classroom Behaviour Management

Coordinator, Commencing Student Success Program

School of Education, Faculty of Humanities, Arts, Social Sciences, Education (HASSE)

University of New England, Australia

& Editor-in-Chief, International Journal of Higher Education

https://orcid.org/0000-0002-1898-4795

Posted: 2022-12-23
More...

ERIC Metrics Report Generated for: International Journal of Higher Education

This report shows the number of views of the ERIC records for your content and the number of PDF downloads if you permit the full text to display in ERIC.

These statistics are for the six-month period from July 1, 2022 to December 31, 2022.

A view is counted whenever a user accesses the abstract.
A download is recorded whenever a user opens the PDF attached to the ERIC record.

This report is only for your content hosted on the ERIC digital library of education research at https://eric.ed.gov. It does not include the views at third-party providers of ERIC or at the publisher's website. You can learn more about the metrics report in this video: https://www.youtube.com/watch?v=Z9-5yRKMW5o.

The first table shows the total visits and downloads for your currently indexed source(s). In the "Views and Downloads" column the total views are visualized in green and downloads in blue. The table is followed by a list of up to ten (10) articles or document titles with the most total views for each source. We are unable to give statistics for all articles.

If your method of submission is email (ERIC@ed.gov) or an ERIC ftp account, be sure to send your current content. New records for your content are available in ERIC 8-10 weeks after we receive it.

If you have questions or need assistance contact us at ERICRequests@ed.gov.

Looking to link to ERIC records on your website? ERIC has developed an API that can help you query the ERIC metadata. For more information and tips see https://eric.ed.gov/?api.

| | | | |
| --- | --- | --- | --- |
| Source Name | All Views | All Downloads | Activity Chart |
| International Journal of Higher Education | 72,307 | 45,997 |   |

International Journal of Higher Education

| | | | |
| --- | --- | --- | --- |
| Title | URL | Views | Downloads |
| Understanding and Applying Research Paradigms in Educational Contexts | | 3,945 | 2,072 |
| Distinguishing between Theory, Theoretical Framework, and Conceptual Framework: A Systematic Review of Lessons from the Field | | 3,502 | 1,966 |
| Mental Health and Academic Performance of First-Year College Students | | 2,772 | 981 |
| EFL Students Perspective towards Online Learning Barriers and Alternatives Using Moodle/Google Classroom during COVID-19 Pandemic | | 1,259 | 544 |
| The Emotional Impact of Social Media in Higher Education | | 1,177 | 930 |
| A Study on the Usefulness of Audio-Visual Aids in EFL Classroom: Implications for Effective Instruction | | 1,106 | 446 |
| Academic Performance, Employment, and Sleep Health: A Comparison between Working and Nonworking Students | | 1,085 | 837 |
| Understanding the Most Important Facilitators and Barriers for Online Education during COVID-19 through Online Photovoice Methodology | | 933 | 356 |
| Motivating Factors for Adult Learners in Higher Education | | 864 | 412 |
| A Paradigm Shift of Learning in Maritime Education amidst COVID-19 Pandemic | | 829 | 250 |

 

Posted: 2021-07-04
More...

Call for Papers---International Journal of Higher Education

We are seeking submissions for forthcoming issues published in February and April 2023. The paper should be written in professional English. The length of 3000-8000 words is preferred. All manuscripts should be prepared in MS-Word format, and submitted online: http://ijhe.sciedupress.com or sent to: ijhe@sciedupress.com

For any further information about the journal, please log on its website: http://ijhe.sciedupress.com

Deadline for Submission (February Issue): January 25, 2023
Deadline for Submission (April Issue): March 25, 2023

Posted: 2022-12-20
More...
Vol 11, No 6 (2022)
International Journal of Higher Education, Vol. 11, No. 6, December 2022
Table of Contents
Articles
| | | |
| --- | --- | --- |
| | Einat Heled, Shay Ukrop, Nitza Davidovitch | p1 |
| | | |
| --- | --- | --- |
| | Mncedisi Christian Maphalala, Dumsani Wilfred Mncube, Rachel Gugu Mkhasibe | p18 |
| | | |
| --- | --- | --- |
| | Irit Talmor, Arie Reshef | p28 |
| | | |
| --- | --- | --- |
| | Sindiswa S. Zondo, Vusi S. Mncube | p39 |
| | | |
| --- | --- | --- |
| | Dana Kaspi-Tsahor, Roman Yavich, Nitza Davidovitch | p50 |
| | | |
| --- | --- | --- |
| | Korchock Nuntasomboon, Prayoon Wongchantra | p60 |
| | | |
| --- | --- | --- |
| | Eirini Adamopoulou, Sarah Scheer, Margarita Mondaca | p73 |
| | | |
| --- | --- | --- |
| | Eser Ordem, Omer Gokhan Ulum, Mustafa Ahmet Cebeci | p108 |
| | | |
| --- | --- | --- |
| | Christopher A. Nix, Isadore Nottolini, Jonathan D. Caranto, Yulia Gerasimova, Dmitry Kolpashchikov, Erin K. H. Saitta | p114 |
| | | |
| --- | --- | --- |
| | AJ Sona, Melanie Kwaschyn, Isadore Nottolini, Erin K. H. Saitta | p140 |
| | | |
| --- | --- | --- |
| | Kerstin Huber, Doris Lewalter, Antje Biermann, Maria Bannert | p154 |