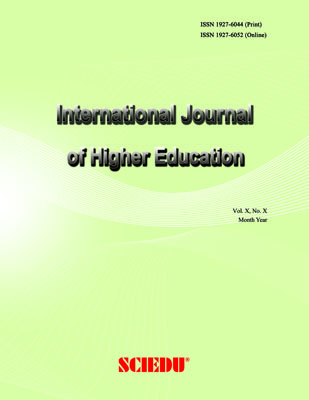 International Journal of Higher Education (IJHE) is a double-blind peer-reviewed journal, published by Sciedu Press. The journal seeks to publish original research articles that are hypothetical and theoretical in its nature and that provide exploratory insights in the fields of educational theory, teaching method, instructional design, students management, case studies etc. in both undergraduate and graduate levels. The editorial board welcomes high-quality research or review papers focusing on teaching, researching, training and applied work in the field of higher education. The journal is published in both printed and online version. The online version is free access and download.
This journal accepts article submissions online or by e-mail (ijhe@sciedupress.com).
*International Journal of Higher Education (IJHE) is included in Scopus. 
ABSTRACTING AND INDEXING:
Statistics
2020Q2: Articles Received: 122; Accepted: 46; Rejected: 63; Published: 55; Retracted: 2
2020Q1: Articles Received: 149; Accepted: 58; Rejected: 89; Published: 53; Retracted: 0
2019: Articles Received: 438; Accepted: 216; Rejected: 194; Published: 189; Retracted: 0
2018: Articles Received: 206; Accepted: 140; Rejected: 65; Published: 111; Retracted: 0
2017: Articles Received: 166; Accepted: 119; Rejected: 44; Published: 112; Retracted: 0
2016: Articles Received: 171; Accepted: 118; Rejected: 51; Published: 103; Retracted: 0
2015: Articles Received: 145; Accepted: 88; Rejected: 43; Published: 72; Retracted: 0
2014: Articles Received: 120; Accepted: 78; Rejected: 39; Published: 58; Retracted: 0
2013: Articles Received: 127; Accepted: 79; Rejected: 39; Published: 71; Retracted: 0
------------------------------------------------------------
Issues 
------------------------------------------------------------
What is e-Version FirstTM
e-Version First is a feature offered through our journal platform. It allows PDF version of manuscripts that have been peer reviewed and accepted, to be hosted online prior to their inclusion in a final printed journal. Readers can freely access or cite the article. We aim to publish accepted manuscripts in e-Version First in two week's time after the final draft completed.
------------------------------------------------------------
Paper Selection and Publishing Process
a) Submission Acknowledgement
When you submit a manuscript online, you will receive a submission acknowledgement letter sent by the online system automatically. For email submission, the editor or editorial assistant sends an e-mail confirmation to the submission's author within one to three working days. If you fail to receive this confirmation, please check your bulk email box or contact the editorial assistant by email: ijhe@sciedupress.com.
b) Basic Review
The editor or editorial assistant determines whether the manuscript fits the journal's focus and scope. Next a check for the similarity rate is done using CrossCheck, powered by iThenticate. Any manuscripts out of the journal's scope or containing plagiarism, including self-plagiarism, are rejected.
c) Peer Review
We use a double-blind system for peer review; both reviewers' and authors' identities remain anonymous. The submitted manuscript will be reviewed by at least two experts: one editorial staff member as well as one to three external reviewers. The review process may take 4-10 weeks.
d) Decision Is Made
The decision to accept or reject an article is based on the suggestions of reviewers. If differences of opinion occur between reviewers, the editor-in-chief will weigh all comments and arrive at a balanced decision based on all comments, or a second round of peer review may be initiated.
e) Notification of the Result of Review
The result of review will be sent to the corresponding author and forwarded to other authors.
f) Article Processing Charge Is Paid
If the submission is accepted, the authors revise paper and pay the Article Processing Charge (600.00USD).
g) Publication Notice
The authors and readers will be notified and invited to visit our website for the newly published articles.
Announcements
Call for Papers-International Journal of Higher Education

International Journal of Higher Education, which is a double-blind peer-reviewed journal, published quarterly by Sciedu Press.

We are seeking submissions for forthcoming issues published in October and December 2020. The paper should be written in professional English. The length of 3000-8000 words is preferred. All manuscripts should be prepared in MS-Word format, and submitted online: http://ijhe.sciedupress.com or sent to: ijhe@sciedupress.com

For any further information about the journal, please log on its website: http://ijhe.sciedupress.com

Posted: 2020-07-06
More...

IJHE Indexed in Scopus

We are pleased to announce that International Journal of Higher Education (ISSN / E-ISSN: 1927-6044 / 1927-6052 ) is included in Scopus. For any further information, please log in to the website: https://www.scopus.com/sourceid/21100896634 

Scopus is the world's largest abstract and citation database of peer-reviewed literature, and is published by Elsevier B.V. This means that the research you publish with the journal will be more visible than ever.

Posted: 2019-05-29
More...
Vol 9, No 4 (2020)
International Journal of Higher Education, Vol. 9, No. 4, 2020, e-Version FirstTM
Table of Contents
Articles
| | | |
| --- | --- | --- |
| | Tao Tang, Maged A. Aldhaeebi, J. Q. Lan, Ebrahim Bamanger | p13 |
| | | |
| --- | --- | --- |
| | George Kehdinga Formunyam | p27 |
| | | |
| --- | --- | --- |
| | Samer M. Ayasrah, Abdalrahman H. Aljarrah | p35 |
| | | |
| --- | --- | --- |
| | Sandro Serpa, Suzana Nunes Caldeira, Margarida S. Damião Serpa, Rolando Lalanda Gonçalves, Helena Mateus Montenegro, Isabel Estrela Rego | p46 |
| | | |
| --- | --- | --- |
| | Nguyen Tien Long, Nguyen Van Hanh | p99 |
| | | |
| --- | --- | --- |
| | Amalia Ilonga, Daniel Opotamutale Ashipala, Nestor Tomas | p116 |
| | | |
| --- | --- | --- |
| | Anrusha Bhana, Mohamed Saheed Bayat | p128 |
| | | |
| --- | --- | --- |
| | Maha Ahmed Hussein Alkhatib | p138 |
| | | |
| --- | --- | --- |
| | Ade Tutty Rokhayati Rosa, Mujiarto Mujiarto | p161 |
| | | |
| --- | --- | --- |
| | Mariam Taiwo Ibrahim, Adeyinka Tella | p169 |
| | | |
| --- | --- | --- |
| | Sutopo Sutopo, Bayu Rahmat Setiadi, Muhammad Nurtanto, Sigit Purnomo, Nurcholish Arifin Handoyono, Arif Bintoro Johan | p199 |
| | | |
| --- | --- | --- |
| | Basil C.E Oguguo, Agnes O. Okeke, Priscilla O. Dave-Ugwu, Christopher A. Ocheni, Clifford O. Ugorji, Ijeoma Hope N. Nwoji, Iheanacho C. Ike | p206 |
| | | |
| --- | --- | --- |
| | Kenneth Adu-Gyamfi, Charles Deodat Otami | p216 |
| | | |
| --- | --- | --- |
| | Chua Yaw Long, Balamuralithara Balakrishnan, Choong Pooi Ying, Koh Yit Yan | p233 |
| | | |
| --- | --- | --- |
| | Frank Fuchs-Kittowski, Juliane Siegeris, Jörn Freiheit | p244 |
| | | |
| --- | --- | --- |
| | Khadijah Alavi, Khairunesa Isa, Sarala Thulasi Palpanadan | p261 |
| | | |
| --- | --- | --- |
| | Nadiia Diachok, Nadiia Chernukha, Liudmyla Tokaruk, Iuliia Udovenko, Mariana Mateeva Petrova | p272 |
| | | |
| --- | --- | --- |
| | Svitlana Omelchenko, Nadiia Chernukha, Yaroslav Spivak, Liudmyla Spivak, Elmira Uteubaeva | p283 |
| | | |
| --- | --- | --- |
| | Marina S. Nebeska, Yevheniia M. Provorova, Elvira M. Gerasymova, Zorina S. Vykhovanets, Pylyp S. Yepryntsev | p291 |
| | | |
| --- | --- | --- |
| | Ira Septriana, Fuad Fuad | p302 |
| | | |
| --- | --- | --- |
| | Paramasivam Muthusamy, Rajantheran Muniandy, Silllalee. S. Kandasamy, Omrah Hassan@ Hussin, Manimaran Subramaniam, Atieh Farashaiyan | p332 |
| | | |
| --- | --- | --- |
| | Nataliia N. Medynska, Nataliia M. Sovtys, Mykhailo Yu. Halatiuk, Nataliia V. Symonovych, Olena I. Shuryn | p339 |