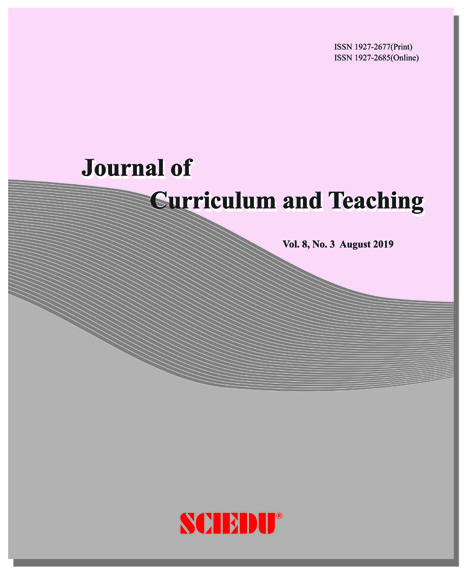 Journal of Curriculum and Teaching (JCT) is a peer-reviewed journal, published by Sciedu Press. It is devoted to publishing manuscripts in curriculum and instruction, learning and teaching, and related disciplines at global and local levels. The journal is published quarterly (February, May, August and November) in both online and printed versions.
Areas include but not limited to:
Curriculum theory
Teaching methodology
Program innovation
Policy development
Professional ethics
Assessment in education
To facilitate rapid publication and to minimize administrative costs, contributions to Journal of Curriculum and Teaching (JCT) can be submitted via the journal's online submission system Online Submission or email to jct@sciedupress.com.
For online submission, please register first and then follow the instructions given on the screen. Questions may be addressed to the editorial assistant: jct@sciedupress.com
JCT's Sections:
Original Research, Review Articles, and Case Studies
Statistics
2020: Articles Received: 146; Accepted: 78; Rejected: 62; Published: 39; Retracted: 0
2019: Articles Received: 96; Accepted: 55; Rejected: 36; Published: 35; Retracted: 0
2018: Articles Received: 102; Accepted: 62; Rejected: 34; Published: 33; Retracted: 0
2017: Articles Received: 83; Accepted: 44; Rejected: 35; Published: 23; Retracted: 0
2016: Articles Received: 90; Accepted: 46; Rejected: 39; Published: 27; Retracted: 0
2015: Articles Received: 65; Accepted: 41; Rejected: 13; Published: 28; Retracted: 0
2014: Articles Received: 46; Accepted: 37; Rejected: 9; Published: 24; Retracted: 0
2013: Articles Received: 53; Accepted: 29; Rejected: 14; Published: 31; Retracted: 0
Announcements
Journal of Curriculum and Teaching Indexed in Scopus

We are pleased to announce that Journal of Curriculum and Teaching (ISSN / E-ISSN: 1927-2677 / 1927-2685) has been indexed in Scopus.

Posted: 2021-08-05
More...

ERIC Metrics Report

The top10 visits and downloads for Journal of Curriculum and Teaching indexed in ERIC(period from 01-01-2019 to 06-30-2019)

 

| | | | | |
| --- | --- | --- | --- | --- |
|   |   |   |   |   |
|   | Title | URL | Visits | Downloads |
|   | Constructivist Teaching/Learning Theory and Participatory Teaching Methods | | 802 | 1,888 |
|   | Achievement of Abraham Maslow's Needs Hierarchy Theory among Teachers: Implications for Human Resource Management in the Secondary School System in Rivers State | | 303 | 236 |
|   | Curriculum Implementation: Strategies for Improved Learning Outcomes in Primary Schools in Kenya | | 261 | 68 |
|   | Creating Lifelong Learners: Fostering Facilitation, Modeling, & Choice in the Classroom | | 175 | 308 |
|   | From an Academician's Preschool Diary: Emergent Curriculum and Its Practices in a Qualified Example of Laboratory Preschool | | 170 | 173 |
|   | Culturally Responsive and Anti-Biased Teaching Benefits Early Childhood Pre-Service Teachers | | 143 | 250 |
|   | A Research on the Use of Social Media Networks by Teacher Candidates | | 141 | 762 |
|   | Researching Gender Professions: Nurses as Professionals | | 132 | 192 |
|   | Elementary Student Perspectives on Single-Gender Classes | | 118 | 140 |
|   | Integrated Arts-Based Teaching (IAT) Model for Brain-Based Learning | | 87 | 384 |

 

Posted: 2019-07-11

Information For Authors

Interested in submitting to this journal? We recommend that you review the 

About the Journal

 page for the journal's section policies, as well as the 

Author Guidelines

. Authors need to 

register

 with the journal prior to submitting or, if already registered, can simply 

log in

and begin the five-step process.

Posted: 2018-09-07

Policy Change of Free Print Journals

As you are aware, printing and delivery of journals results in causing a significant amount of detrimental impact to the environment. Being a responsible publisher and being considerate for the environment, we have decided to change the policy of offering free print journals for authors.

From July 1, 2018, we will not automatically provide authors free print journals. However, when authors really need free print copies, they are requested to kindly complete an application form to order printed copies. Once approved,  we will arrange print and delivery, for a maximum of two copies per article.  If authors require more than two copies, they are requested to order online at: store.sciedupress.com.

Additionally, we are happy to provide journal's eBook in PDF format for authors, free of charge. The eBook is the same as the printed version, but it is completely environmentally friendly. Please contact the journal editor to request eBook of the journal's issues.

We are committed to saving the planet for our future generations.

Posted: 2018-01-25

INDEX/LIST/ARCHIVE

Scopus







Library and Archives Canada






National Library of Australia






PKP Open Archives Harvester








Posted: 2016-12-12
Vol 12, No 1 (2023)
Vol. 12, No. 1, February 2023 (In Progress)
e-Version FirstTM
Table of Contents
Articles
| | | |
| --- | --- | --- |
| | Supanida Kahanurak, Jarunee Dibyamandala, Charin Mangkhang | p14 |
| | | |
| --- | --- | --- |
| | Subashini K. Rajanthran, Walton Wider, Ling Shing Wong, Choon Kit Chan, Siti Sarah Maidin | p27 |
| | | |
| --- | --- | --- |
| | Jimiao Yan, Ahmad Johari Bin Sihes | p36 |
| | | |
| --- | --- | --- |
| | Jerson Sabang Catoto, Bainorie A. Mantawil | p63 |
| | | |
| --- | --- | --- |
| | Asaye Gebrewold Ashengo, Daniel Desta Dolisso | p73 |
| | | |
| --- | --- | --- |
| | Mengtian Xie, Walton Wider, Subashini K. Rajanthran, Ling Shing Wong, Choon Kit Chan, Siti Sarah Maidin, Nurul Aliah Mustafa | p100 |
| | | |
| --- | --- | --- |
| | Wahyudi Wahyudi, Suharno Suharno, Nugroho Agung Pambudi | p110 |
| | | |
| --- | --- | --- |
| | Charin Mangkhang, Chalermrat Mahawun, Nattagit Autmano, Nitpaporn Rujiwattanakul, Suputtra Nuntarit, Nitikorn Kaewpanya, Seksan Khammanee, Puttaraksa Wangpa, Ittikorn Tepsing | p137 |
| | | |
| --- | --- | --- |
| | Khalid Abdullah Bingimlas | p147 |
| | | |
| --- | --- | --- |
| | Sergio Andrés Sepúlveda-Vallejos, Aquiles Alejandro Almonacid-Fierro, Noelva Eliana Montoya-Grisales, Karla Valdebenito | p162 |