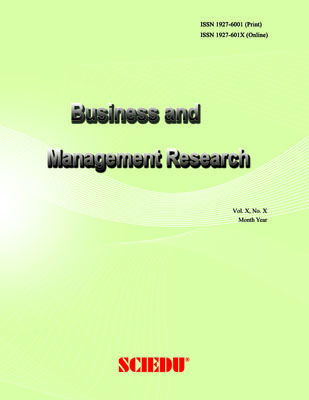 Business and Management Research (BMR) is a double-blind peer-reviewed journal, published by Sciedu Press. The journal seeks to publish original research articles that are  hypothetical and theoretical in its nature and that provide exploratory insights in the fields of General Management, Business Law, Marketing Theory and Applications, Business Finance and Investment, General Business Research, Business and Economics Education, Production/Operations Management, Organizational Behavior and Theory, Social Issues and Public Policy, Management Organization, Statistics and Econometrics, Personnel and Industrial Relations, Technology and Innovation, Case Studies and Management Information Systems, Accounting, Analysis, Communication, Information Technologies, Project management and Strategy. The journal is published in both online and printed versions. The online version is free access and download.

The goal of Business and Management Research (BMR) is to broaden the knowledge of business professionals and academicians by promoting free access and provide valuable insight to business-related information, research and ideas.
This journal accepts article submissions online or by e-mail (bmr@sciedupress.com ).
ABSTRACTING AND INDEXING:
Statistics
2023Q2: Articles Received: 13; Accepted: 8; Rejected: 3; Published: 0; Retracted: 0
2023Q1: Articles Received: 6; Accepted: 3; Rejected: 3; Published: 3; Retracted: 0
2022: Articles Received: 23; Accepted: 10; Rejected: 8; Published: 5; Retracted: 1
2021: Articles Received: 25; Accepted: 18; Rejected: 7; Published: 12; Retracted: 1
2020: Articles Received: 27; Accepted: 22; Rejected: 4; Published: 22; Retracted: 0
2019: Articles Received: 52; Accepted: 28; Rejected: 22; Published: 16; Retracted: 0
2018: Articles Received: 104; Accepted: 62; Rejected: 46; Published: 21; Retracted: 0
2017: Articles Received: 106; Accepted: 65; Rejected: 38; Published: 29; Retracted: 0
2016: Articles Received: 111; Accepted: 65; Rejected: 41; Published: 27; Retracted: 1
2015: Articles Received: 107; Accepted: 72; Rejected: 35; Published: 21; Retracted: 0
2014: Articles Received: 120; Accepted: 77; Rejected: 50; Published: 41; Retracted: 0
2013: Articles Received: 109; Accepted: 66; Rejected: 38; Published: 56; Retracted: 0
---------------------------------------------------------
Issues
---------------------------------------------------------
What is e-Version FirstTM
e-Version First is a feature offered through our journal platform. It allows PDF version of manuscripts that have been peer reviewed and accepted, to be hosted online prior to their inclusion in a final printed journal. Readers can freely access or cite the article. We aim to publish accepted manuscripts in e-Version First in two week's time after the final draft completed.
---------------------------------------------------------
Paper Selection and Publishing Process
a) Submission Acknowledgement
When you submit a manuscript online, you will receive a submission acknowledgement letter sent by the online system automatically. For email submission, the editor or editorial assistant sends an e-mail confirmation to the submission's author within one to three working days. If you fail to receive this confirmation, please check your bulk email box or contact the editorial assistant by email: bmr@sciedupress.com
b) Basic Review
The editor or editorial assistant determines whether the manuscript fits the journal's focus and scope. Next a check for the similarity rate is done using CrossCheck, powered by iThenticate. Any manuscripts out of the journal's scope or containing plagiarism, including self-plagiarism, are rejected.
c) Peer Review
We use a double-blind system for peer review; both reviewers' and authors' identities remain anonymous. The submitted manuscript will be reviewed by at least two experts: one editorial staff member as well as one to three external reviewers. The review process may take four to ten weeks.
d) Decision Is Made
The decision to accept or reject an article is based on the suggestions of reviewers. If differences of opinion occur between reviewers, the editor-in-chief will weigh all comments and arrive at a balanced decision based on all comments, or a second round of peer review may be initiated.
e) Notification of the Result of Review
The result of review will be sent to the corresponding author and forwarded to other authors.
f) Publication Fee Is Paid
If the submission is accepted, the authors revise paper and pay the Article Processing Charge (Formatting and Hosting) (300USD).
g) Publication Notice
The authors and readers will be notified and invited to visit our website for the newly published articles.
Announcements
Call for Papers-Business and Management Research (BMR)

Business and Management Research is now calling for papers for Vol. 12, No. 1, 2023 issue. (Submission Deadline: June 20, 2023)

 

Please review the journal's site and submit online or by e-mail (bmr@sciedupress.com)

For any questions, please contact bmr@sciedupress.com.


Posted: 2023-02-01
More...

Policy Change of Free Print Journals

As you are aware, printing and delivery of journals results in causing a significant amount of detrimental impact to the environment. Being a responsible publisher and being considerate for the environment, we have decided to change the policy of offering free print journals for authors.

From July 1, 2018, we will not automatically provide authors free print journals. However, when authors really need free print copies, they are requested to kindly complete an application form to order printed copies. Once approved,  we will arrange print and delivery, for a maximum of two copies per article.  If authors require more than two copies, they are requested to order online at: store.sciedupress.com.

Additionally, we are happy to provide journal's eBook in PDF format for authors, free of charge. The eBook is the same as the printed version, but it is completely environmentally friendly. Please contact the journal editor to request eBook of the journal's issues.

We are committed to saving the planet for our future generations.

Posted: 2018-01-27
More...
Vol 13, No 1 (2024)
Business and Management Research, Vol. 13, No. 1, July 2024 (e-Version FirstTM)
Table of Contents
Articles
| | | |
| --- | --- | --- |
| | E. Mbuyisa, A. Shiri, S. Chirume | p1 |
| | | |
| --- | --- | --- |
| | Zuhair Hasan, Rayan Esmaail, Zulaikah AlBusaidi, Cam Caldwell | p9 |
| | | |
| --- | --- | --- |
| | Maricel Co, Ralyn Bermudez | p18 |
| | | |
| --- | --- | --- |
| | Sanja Pecelj, Zulaikah AlBusaidi, Rayan Esmaail, Cam Caldwell | p28 |
| | | |
| --- | --- | --- |
| | Dengke Yu, Lina Le | p50 |