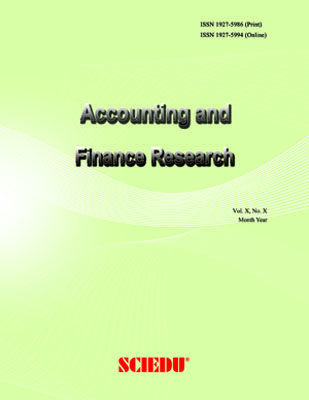 Accounting and Finance Research (AFR) (ISSN 1927-5986 E-ISSN 1927-5994) is a double-blind peer-reviewed journal, published by Sciedu Press. The journal seeks to publish research articles that are original hypothetical and theoretical in its nature and that provides exploratory insights in the fields of accounting, corporate finance, investment, insurance, monetary banking, stock exchange, capital markets and relevant subjects. The journal is published in both online and printed versions. All publications are open access in full text and free to download.
This journal accepts article submissions online or by e-mail (afr@sciedupress.com).
ABSTRACTING AND INDEXING:
------------------------------------------------------------
Open Access Policy:
This journal provides immediate open access to its content on the principle that making research freely available to the public supports a greater global exchange of knowledge.
Copyright Policy:
Copyrights for articles are retained by the authors, with first publication rights granted to the journal. Authors have rights to reuse, republish, archive, and distribute their own articles after publication. The journal/publisher is not responsible for subsequent uses of the work.
This journal is licensed under a Creative Commons Attribution 4.0 License.
------------------------------------------------------------
Statistics
2023Q3: Articles Received: 22; Accepted: 12; Rejected: 8; Published: 5; Retracted: 0
2023Q2: Articles Received: 18; Accepted: 10; Rejected: 8; Published: 7; Retracted: 0
2023Q1: Articles Received: 20; Accepted: 7; Rejected: 8; Published: 2; Retracted: 0
2022: Articles Received: 74; Accepted: 43; Rejected: 29; Published: 15; Retracted: 0
2021: Articles Received: 48; Accepted: 28; Rejected: 21; Published: 22; Retracted: 0
2020: Articles Received: 103; Accepted: 55; Rejected: 46; Published: 28; Retracted: 0
2019: Articles Received: 126; Accepted: 82; Rejected: 44; Published: 69; Retracted: 0
2018: Articles Received: 150; Accepted: 86; Rejected: 57; Published: 78; Retracted: 0
2017: Articles Received: 172; Accepted: 118; Rejected: 55; Published: 87; Retracted: 0
2016: Articles Received: 131; Accepted: 77; Rejected: 39; Published: 58; Retracted: 0
2015: Articles Received: 105; Accepted: 70; Rejected: 34; Published: 54; Retracted: 0
2014: Articles Received: 114; Accepted: 87; Rejected: 24; Published: 67; Retracted: 0
2013: Articles Received: 81; Accepted: 59; Rejected: 24; Published: 56; Retracted: 0
------------------------------------------------------------
Issues
Vol. 13, No. 1 [In Progress]
------------------------------------------------------------
What is e-Version FirstTM
e-Version First is a feature offered through our journal platform. It allows PDF version of manuscripts that have been peer reviewed and accepted, to be hosted online prior to their inclusion in a final printed journal. Readers can freely access or cite the article. We aim to publish accepted manuscripts in e-Version First in two week's time after the final draft completed.
------------------------------------------------------------
Paper Selection and Publishing Process
a) Submission Acknowledgement
When you submit a manuscript online, you will receive a submission acknowledgement letter sent by the online system automatically. For email submission, the editor or editorial assistant sends an e-mail confirmation to the submission's author within one to three working days. If you fail to receive this confirmation, please check your bulk email box or contact the editorial assistant by email: afr@sciedupress.com .
b) Basic Review
The editor or editorial assistant determines whether the manuscript fits the journal's focus and scope. Next a check for the similarity rate is done using CrossCheck, powered by iThenticate. Any manuscripts out of the journal's scope or containing plagiarism, including self-plagiarism, are rejected.
c) Peer Review
We use a double-blind system for peer review; both reviewers' and authors' identities remain anonymous. The submitted manuscript will be reviewed by at least two experts: one editorial staff member as well as one to three external reviewers. The review process may take four to ten weeks.
d) Decision Is Made
The decision to accept or reject an article is based on the suggestions of reviewers. If differences of opinion occur between reviewers, the editor-in-chief will weigh all comments and arrive at a balanced decision based on all comments, or a second round of peer review may be initiated.
e) Notification of the Result of Review
The result of review will be sent to the corresponding author and forwarded to other authors.
f) Article Processing Charge Is Paid
If the submission is accepted, the authors revise paper and pay the Article Processing Charge (400USD).
g) Publication Notice
The authors and readers will be notified and invited to visit our website for the newly published articles.
Announcements
Call for Papers-Accounting and Finance Research

We are seeking submissions for forthcoming issues published in February and May 2024. The paper should be written in professional English. The length of 3000-8000 words is preferred. All manuscripts should be prepared in MS-Word format, and submitted online: http://afr.sciedupress.com or sent to: afr@sciedupress.com

For any further information about the journal, please log on its website: http://afr.sciedupress.com

It is also appreciated if you could share this information with your colleagues and associates. Thank you.

Deadline for Submission (February Issue): February 1, 2024

Deadline for Submission (May Issue): April 1, 2024

Posted: 2021-11-29
More...
Vol 12, No 4 (2023)
Accounting and Finance Research, Vol. 12, No. 4,  November 2023
Table of Contents
Articles
| | | |
| --- | --- | --- |
| | Ateyah Mohammad Alawneh, Suleiman Daood Alosheibat | p1 |
| | | |
| --- | --- | --- |
| | Suhaily Hasnan, Mohamad Zakwan Zabidi Adil Zaibidai Ad, Muhammad Haziq Danial Mohd Farmy, Muhammad Irfan Anuar, Muhammad Zulhelmy Mohd Nazri, Amir Rayyan Muhammad Shaifuddin | p13 |
| | | |
| --- | --- | --- |
| | Halim Shuhaimi Yeop Johari, Cedrena Nadine Jius Awang, Seri Ayu Masuri Md Daud | p23 |
| | | |
| --- | --- | --- |
| | Intan Suhaila Maulad Haji Md Isa, Raziah Bi Mohamed Sadique, Norhayati Alias, Noor Hasniza Haron | p32 |
| | | |
| --- | --- | --- |
| | Siti Nur Shahirah Sahidan, Raziah Bi Mohamed Sadique, Norhayati Alias, Noor Hasniza Haron | p43 |
| | | |
| --- | --- | --- |
| | Suhaily Hasnan, Aiyani Abdul Hakim, Anis Fatini Ab Rahaman, Fatin Nur Farzana Zulkifli, Nureen Haziera Mohd Hazimi, Anas Rayyan Muhammad Shaifuddin | p54 |
| | | |
| --- | --- | --- |
| | Yusri Hazrol Yusoff, Yossi Rosalina Oktaviani, Siti Handayani, Muhammad Safwan Ismail, Muhamad Ridzuan Hashim, Roszana Tapsir | p62 |
| | | |
| --- | --- | --- |
| | Yusri Hazrol Yusoff, Tengku Puteri Nurqistina Tengku Md Hadzlan, Siti Salihah Ahmad Nazli, Suhartila Soid, Roslina Abdul Rahim, Norfatiha Mohd Mohd Nor | p72 |
| | | |
| --- | --- | --- |
| | Dalili Adlina Aisham, Nurfarah Hanis Ali, Raja Nurul Fatihah Raja Razlan, Suraya Qistina Ain, Muthyaah Mohd Jamil, Noor Afzalina Mohamad | p80 |
| | | |
| --- | --- | --- |
| | Tuan Zainun Tuan Mat, Marshita Hashim, Shukriah Saad, Mohd Badrulhisham Ismail | p86 |
| | | |
| --- | --- | --- |
| | Mansor Ibrahim, Sharika Tasnim | p117 |
| | | |
| --- | --- | --- |
| | Rohayu Yusop, Radziah Mahmud, Nurshamimi Sabli, Nurul Fatma Aziz Awang, Noorlaila Ghazali | p132 |
| | | |
| --- | --- | --- |
| | Halim Shuhaimi Yeop Johari, Maslinawati Mohamad, Nurhidayah Yahya, Hairul Suhaimi Nahar | p144 |