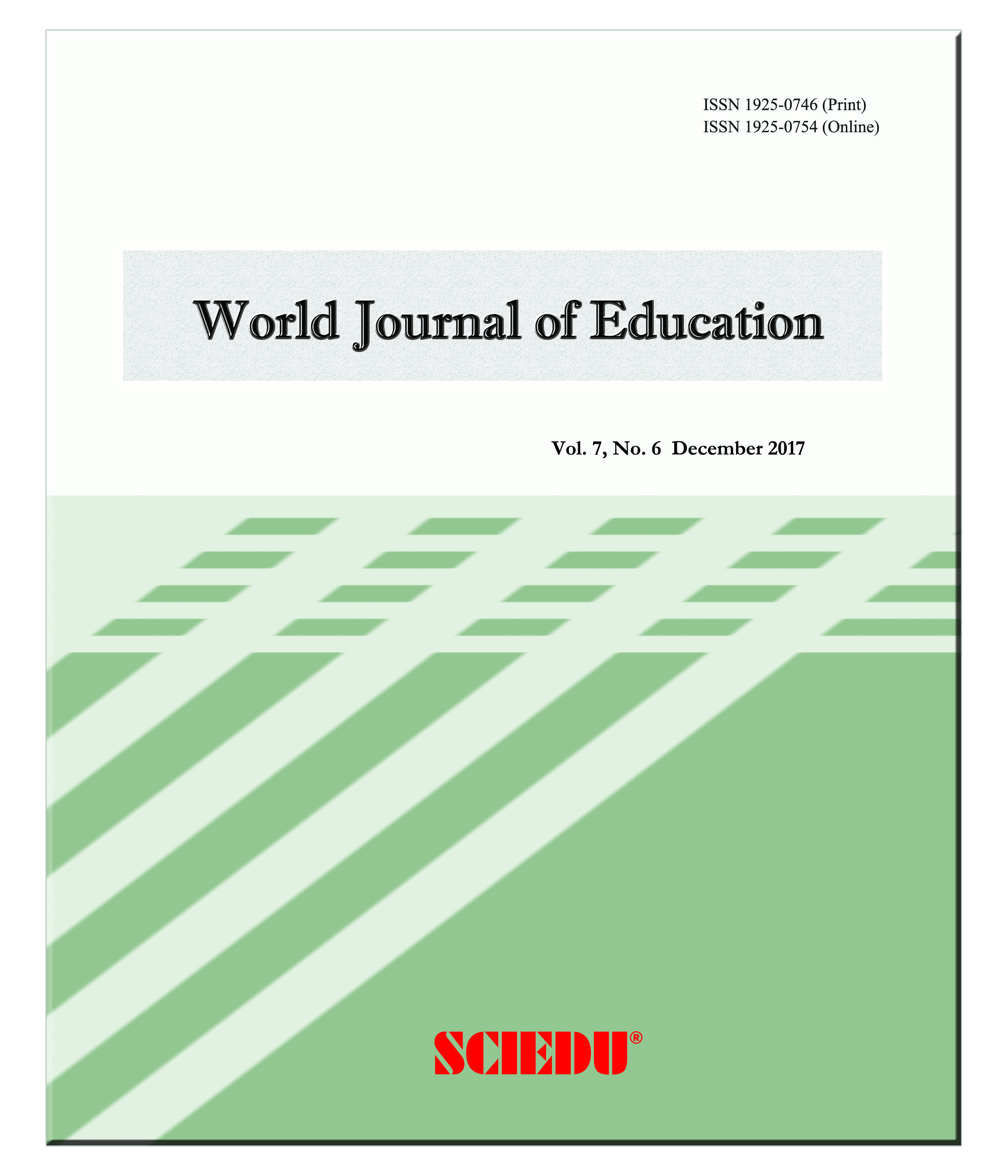 World Journal of Education (WJE) is an international, peer-reviewed journal, published by Sciedu Press. The journal is devoted to publishing articles in the fields of education, teaching, learning and other relevant subjects.
Topics covered include but not limited to:
Primary education 
Secondary education 
Higher education 
Special education (SpEd)
Vocational education
Educational psychology
Educational measurement
Pedagogy
To facilitate rapid publication and to minimize administrative costs, contributions to World Journal of Education (WJE) can be submitted via the journal's online submission system Online Submission or email to wje@sciedupress.com
The journal is published bimonthly(February, April, June, August, October and December) in both online and printed versions.
World Journal of Education (WJE) accepts the following types of article:
Original articles, Review papers, Case studies
Statistics
2020 Q1: Articles Received: 81; Accepted: 32; Rejected: 25; Published: 18; Retracted: 0
2019: Articles Received: 228; Accepted: 121; Rejected: 102; Published: 92; Retracted: 0
2018: Articles Received: 264; Accepted: 150; Rejected: 94; Published: 103; Retracted: 0
2017: Articles Received: 202; Accepted: 114; Rejected: 90; Published: 56; Retracted: 0
2016: Articles Received: 180; Accepted: 93; Rejected: 63; Published: 51; Retracted: 1
2015: Articles Received: 212; Accepted: 130; Rejected: 91; Published: 75; Retracted: 0
2014: Articles Received: 164; Accepted: 101; Rejected: 64; Published: 55; Retracted: 0
2013: Articles Received: 148; Accepted: 78; Rejected: 56; Published: 48; Retracted: 0
Announcements
ERIC Metrics Report

The top10 visits and downloads for World Journal of Education indexed in ERIC(period from 01-01-2019 to 06-30-2019)

| | | | | |
| --- | --- | --- | --- | --- |
|   |   |   |   |   |
|   | Title | URL | Visits | Downloads |
|   | The Impact of Zero Tolerance Policy on Children with Disabilities | | 471 | 782 |
|   | A Case Study on Reducing Children's Screen Time: The Project of Screen Free Week | | | 322 |
|   | Universal Design for Learning to Support Access to the General Education Curriculum for Students with Intellectual Disabilities | | 419 | 878 |
|   | Ability of Children with Learning Disabilities and Children with Autism Spectrum Disorder to Recognize Feelings from Facial Expressions and Body Language | | 413 | 604 |
|   | Andragogy: Prerequisites for Adult Educators | | 391 | 716 |
|   | Mental Health and the Juvenile Justice System: Issues Related to Treatment and Rehabilitation | | 389 | 508 |
|   | Investigation of Smartphone Addiction Effect on Recreational and Physical Activity and Educational Success | | 378 | 630 |
|   | Family, Peer and School Influence on Children's Social Development | | 257 | 574 |
|   | School Community Connectedness and Family Participation at School | | 216 | 942 |
|   | Planning Effective Educational Programs for Adult Learners | | 148 | 588 |

Posted: 2019-07-11

Policy Change of Free Print Journals

As you are aware, printing and delivery of journals results in causing a significant amount of detrimental impact to the environment. Being a responsible publisher and being considerate for the environment, we have decided to change the policy of offering free print journals for authors.

From July 1, 2018, we will not automatically provide authors free print journals. However, when authors really need free print copies, they are requested to kindly complete an application form to order printed copies. Once approved,  we will arrange print and delivery, for a maximum of two copies per article.  If authors require more than two copies, they are requested to order online at: store.sciedupress.com.

Additionally, we are happy to provide journal's eBook in PDF format for authors, free of charge. The eBook is the same as the printed version, but it is completely environmentally friendly. Please contact the journal editor to request eBook of the journal's issues.

We are committed to saving the planet for our future generations.

Posted: 2018-01-25

INDEX/LIST/ARCHIVE

Posted: 2016-12-12

Similarity Check

Please be aware that we check all submitted manuscripts for plagiarism. We use CrossCheck (powered by iThenticate, the leading plagiarism-detection system) to check for similarity to previously published documents. All manuscripts containing plagiarism, including self-plagiarism, and dishonesty are rejected.
Posted: 2014-08-05

Author Guidelines: e-Version First

e-Version First TM

Allow users to access to the final reversion articles (have been peer reviewed, accepted for publication), which are assigned to the upcoming issues before print publication.
Articles will be published in e-Version First within two weeks of final acceptance.
When an article is published in print issue it will be removed from e-Version First page.

Posted: 2012-09-19

Paper Selection and Publication Process

a). Upon receipt of paper submission, the Editor sends an E-mail of confirmation to the corresponding author within 1-3 working days. If you fail to receive this confirmation, your submission/E-mail may be missed. Please contact the Editor in time for that.

b). Peer review. We use double-blind system for peer-review. Both reviewers and authors' identities remain anonymous. The paper will be peer-reviewed by three experts: one is an editorial staff and the other two are external reviewers. The review process may take 2-6 weeks. In some rare cases, according to the recommendations from editors and reviewers, a second round of peer review may be initiated. Please see a sample of Result of Review.

c). Notification of the result of review by E-mail.

d). The authors revise paper and pay publication fee(300USD).

e). E-journal in PDF is available on the journal's webpage, free of charge for download.

Posted: 2012-09-19

World Journal of Education - Call for Papers

Call for papers

 

World Journal of Education is an international journal dedicated to publishing papers in the fields of education, teaching, learning and other relevant subjects.

 

You may submit your manuscripts online

Submission Online

or send it thru email at wje@sciedupress.com

 

Any further inquiries can be directed to the editor at wje@sciedupress.com

Posted: 2017-04-09
More...
Vol 10, No 3 (2020)
Vol. 10, No. 3, June 2020 (In Progress)
e-Version FirstTM
Table of Contents
Articles
| | | |
| --- | --- | --- |
| | Milan Mašát, Jana Sladová, Kristýna Šmakalová, Anna Bínová | p1 |
| | | |
| --- | --- | --- |
| | Chalard Chantarasombat, Wichian Rooyuenyong | p19 |
| | | |
| --- | --- | --- |
| | Nesrin Sönmez, Serpil Alptekin | p33 |
| | | |
| --- | --- | --- |
| | Ramis Bayrak, Ahmet Gürses | p47 |
| | | |
| --- | --- | --- |
| | Dondu Neslıhan Bay, Perıhan Tugba Seker | p79 |
| | | |
| --- | --- | --- |
| | Suzanne F Lindt, Dittika Gupta | p88 |
| | | |
| --- | --- | --- |
| | Kardelen Kilinc, Ozgur Yildirim | p95 |
| | | |
| --- | --- | --- |
| | Lukas Stárek, Jarmila Klugerová | p127 |
| | | |
| --- | --- | --- |
| | Arzu Çuçin, Sami Özgür, Burcu Güngör Cabbar | p148 |
| | | |
| --- | --- | --- |
| | Abolfazl Shirban Sasi, Toshinari Haga, Heng Yu Chen | p160 |
| | | |
| --- | --- | --- |
| | Roslinda Rosli, Mardina Abdullah, Nur Choiro Siregar, Nurul Shazana Abdul Hamid, Sabirin Abdullah, Gan Kok Beng, Lilia Halim, Noridawaty Mat Daud, Siti Aminah Bahari, Rosadah Abd Majid, Badariah Bais | p170 |
| | | |
| --- | --- | --- |
| | Nkechi Patricia-Mary Esomonu, Lydia Ijeoma Eleje | p178 |
| | | |
| --- | --- | --- |
| | Kamwitha A. Muthanje, Khatete I. Wafula, Riechi A. Rasugu | p188 |
| | | |
| --- | --- | --- |
| | Umut Birkan Ozkan, Kemal Oguz Er | p199 |
| | | |
| --- | --- | --- |
| | Yahya Ahmed Dhamit, Noor Talal Albdour, Mohamed Alshraideh | p208 |