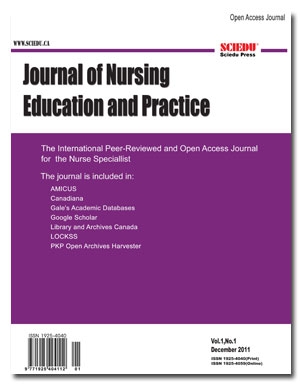 Journal of Nursing Education and Practice (PRINT ISSN 1925-4040, ONLINE ISSN 1925-4059) is peer-reviewed international scientific journal providing a forum for original research, case reports, experience exchange and reviews to the fields of nursing on clinical nursing, nursing administration, nursing practice, nursing education and so on.
JNEP's primary aim is to promote a high standard of clinically related scholarship which supports the practice and education of nursing. The Journal also aims to promote the international exchange of ideas and experience that draw from the different cultures in which practice takes place. Manuscripts on evidence-based nursing and nursing education are preferred.
JNEP is included in:
DOAJ
EBSCOhost
Gale's Academic Databases
Google Scholar
LOCKSS
ProQuest
PKP Open Archives Harvester
The Standard Periodical Directory
To facilitate rapid publication and to minimize administrative costs, the journal accepts Online submission and Email submission. All manuscripts and any supplementary material can be submitted via the journal's Online Submission and peer-review system or email to jnep@sciedu.ca. For online submission, please create a new account and then follow the instructions given on the screen.
JNEP's Section:
Original Research, Clinical Practice, Case Report, Conference Report, Experience Exchange, Reviews.
Statistics
2013 Q3: Articles Received: 67; Accepted: 46; Rejected: 17 Published: 40; Retracted: 0
2013 Q2: Articles Received: 57; Accepted: 39; Rejected: 22 Published: 52; Retracted: 1
2013 Q1: Articles Received: 62; Accepted: 45; Rejected: 30 Published: 62; Retracted: 0
---------------------------------------------------------------------
What is e-Version FirstTM
e-Version First is a feature offered through our journal platform. It allows PDF version of manuscripts that have been peer reviewed and accepted, to be hosted online prior to their inclusion in a final printed journal. Readers can freely access or cite the article. We aim to publish accepted manuscripts in e-Version First in two week's time after the final draft completed.
---------------------------------------------------------------------
Paper Selection and Publication Process
a) Upon receipt of paper submission, the Editor sends an E-mail of confirmation to the corresponding author within 1-3 working days. If you fail to receive this confirmation, your submission/e-mail may be missed. Please contact the Editor in time for that.
b) Peer review. We use double-blind system for peer-review; both reviewers and authors' identities remain anonymous. The paper will be peer-reviewed by three experts; two reviewers from outside and one editor from the journal typically involve in reviewing a submission. The review process may take 2-4 weeks.
c) Notification of the result of review by E-mail.
d) The authors revise paper and pay publication fee (200.00 USD).
e) After publication, the corresponding author will receive the copy of printed journal, free of charge.
f) E-journal in PDF is available on the journal's webpage, free of charge for download.

NOTE:
The publisher and journal have a policy of "Zero Tolerance on the Plagiarism". We check the plagiarism issue through two methods: reviewer check and plagiarism prevention tool (ithenticate.com).
All submissions will be checked by iThenticate before being sent to reviewers.
---------------------------------------------------------------------
Announcements
Publication Fees Adjustment Notice (Effective from January 1, 2014)

Effective from January 1, 2014, the publication fee will increase from 200.00USD to 300.00USD. Manuscripts submitted on or after this date will be charged the new rate of 300.00USD per article.

Manuscripts submitted in 2013 can take advantage of the old rate if paid on or before January 31, 2014.
All 2013's manuscripts unpaid by 31 January 2014 will be charged the new rate.

Thank you very much for your cooperation.

Posted: 2013-09-25
More...

JNEP indexed in DOAJ

Journal of Nursing Education and Practice (

JNEP) has been indexed in DOAJ. We welcome every scholar in nursing field submit your articles.
Posted: 2013-04-06
More...

Call for papers for Special issue "Nurse Management of Chronic Diseases in Primary Care" (Professor Núria Fabrellas)

We invite authors to submit review and original articles, whether empirical or theoretical, that seeks to explore the Nurse Management of Chronic Diseases in Primary Care. Potential topics include, but are not limited to:

Nurse management of patients with minor illnesses in primary care
Nurse management of patients with cardiac failure in primary care
Nurse management of patients with alcoholism and alcohol-related diseases
Nurse management of diabetes mellitus and its complications in primary care
Nurse management of chronic pulmonary diseases in primary care
Nurse management of arterial hypertension  in primary care
Nurse management and prevention of obesity in adults in primary care
Polymedication of the elderly in primary care
Self-management of chronic illnesses in primary care
Nurse language of diseases in primary care

Posted: 2012-11-13
More...
Vol 4, No 4 (2014)
Journal of Nursing Education and Practice, Vol. 4, No. 4, 2014, e-Version First TM
Table of Contents
Original Research
Clinical Practice
Reviews
This work is licensed under a
Creative Commons Attribution 3.0 License
.
Journal of Nursing Education and Practice
ISSN 1925-4040 (Print)   ISSN 1925-4059 (Online)
Copyright © Sciedu Press 
To make sure that you can receive messages from us, please add the 'Sciedu.ca' domain to your e-mail 'safe list'. If you do not receive e-mail in your 'inbox', check your 'bulk mail' or 'junk mail' folders.