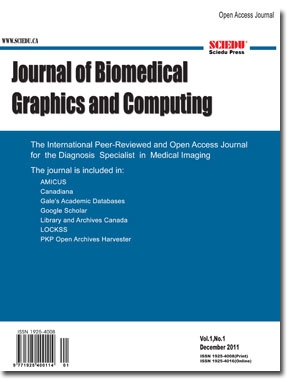 Journal of Biomedical Graphics and Computing (PRINT ISSN 1925-4008, ONLINE ISSN 1925-4016) is a peer-reviewed international scientific journal providing a forum for original research, reviews, case reports or clinical practice related to the fields of medical scanning techniques, computer-aided diagnosis, augmented-reality, medical visualization, molecular imaging, imaging genomics, image-guided therapy, confocal and multi-photonmicroscopy, optical microendoscope, photoacoustic imaging, infra-red radiation, and so on.
JBGC's primary goal is to publish advances in imaging diagnosis, intervention, and development of imaging, graphics and computing in biophysics area.
JBGC is included in:
EBSCOhost
ProQuest
Gale's Academic Databases
Google Scholar
Lockss
PKP Open Archives Harvester
The Standard Periodical Directory
To facilitate rapid publication and minimize administrative costs, The Journal accepts Online submission and Email submission. For online submission, please register and then follow the instructions given.
JBGC's section: Editorial, Original research, Clinical practice, Reviews, Case reports.
Statistics
2013 Q3: Articles Received: 13; Accepted: 9; Rejected: 2 Published: 13; Retracted: 0
2013 Q2: Articles Received: 15; Accepted: 8; Rejected: 3 Published: 13; Retracted: 0
2013 Q1: Articles Received: 15; Accepted: 3; Rejected: 7 Published: 12; Retracted: 0
---------------------------------------------------------------------
What is e-Version FirstTM
e-Version First is a feature offered through our journal platform. It allows PDF version of manuscripts that have been peer reviewed and accepted, to be hosted online prior to their inclusion in a final printed journal. Readers can freely access or cite the article. We aim to publish accepted manuscripts in e-Version First in two week's time after the final draft completed.
---------------------------------------------------------------------
Paper Selection and Publication Process
a). Upon receipt of paper submission, the Editor sends an E-mail of confirmation to the corresponding author within 1-3 working days. If you fail to receive this confirmation, your submission/e-mail may be missed. Please contact the Editor in time for that.
b). Peer review. We use double-blind system for peer-review; both reviewers and authors' identities remain anonymous. The paper will be peer-reviewed by three experts; two reviewers from outside and one editor from the journal typically involve in reviewing a submission. The review process may take 2-4 weeks.
c). Notification of the result of review by E-mail.
d). The authors revise paper and pay publication fee (200.00 USD).
e). After publication, the corresponding author will receive the copy of printed journal, free of charge.
f). E-journal in PDF is available on the journal's webpage, free of charge for download.

NOTE:
The publisher and journal have a policy of "Zero Tolerance on the Plagiarism". We check the plagiarism issue through two methods: reviewer check and plagiarism prevention tool (ithenticate.com).
All submissions will be checked by iThenticate before being sent to reviewers.
----------------------------------------------------------
Announcements
The forthcoming Articles of JBGC Vol. 2, No. 2

The content of JBGC Vol. 2, No. 1 is:

Reliability of a freehand three-dimensional ultrasonic device allowing anatomical orientation "at a glance": Study protocol for 3D measurements with Curefab CS
Detection of sentinel lymph nodes by SPECT/CT and planar scintigraphy: The influence of age, gender and BMI
Dynamic contrast-enhanced MRI in breast cancer: A comparison between distributed and compartmental tracer kinetic models
Early diagnosis for cutaneous malignant melanoma based on the intellectualized classification and recognition for images of melanocytic tumour by dermoscopy
Characterization of aortic valve stenosis by mathematical modelling of the reflectance spectroscopy
Automatic detection of pulmonary nodules: evaluation of performance using two different MDCT scanners
Timely antenatal diagnosis of malformations – Still a far cry
Compensation of the non-uniformity of back-lighting sources when digitising X-ray films for video-densitometric measures
Percutaneous transcatheter super-selective embolization of a tributary of an accessory renal artery to control traumatic haematuria from a horseshoe kidney-a case report
Widespread osseous metastasis of signet ring type bladder cancer detected by NaF18-PET/CT bone scan
Endometrial stromal sarcoma of the uterus with malignant thrombosis of the iliac and femoral veins: Case report and review of literature
Oesophageal pain: A tough nut to crack the role of high resolution manometry guided segmental oesophageal myotomy
Solitary craniocerebral plasmacytoma mimicking a meningioma
Pulmonary tuberculosis masquerading as bronchogenic carcinoma with lymphangitic spread of tumor
Monitoring for depth of anesthesia: a review
Imaging of cystic pancreatic lesions

Posted: 2012-09-06
More...

Publication fee of JBGC

The publication fee for each published article in JBGC is $200, effective from July 1, 2012.
Posted: 2012-07-01
More...

The forthcoming Articles of JBGC Vol. 2, No. 1

The content of JBGC Vol. 2, No. 1 is:

Breast simulator: A software platform for breast x-rayimaging research
Measurements of transmural strain variations by two dimensional ultrasound speckle tracking
Transvulvar ultrasound of urethrovesical junction and proximal urethra as prognostic markers of burch procedure outcome
Comparison between 1-compartmental and 2-compartmental model in calculation of myocardium blood flow in 82Rb PET imaging
A recurrence network approach for the analysis of skin blood flow dynamics in response to loading pressure
Examining the value PSA=10ng/ml as a cut off for predicting metastatic bone disease in NaF18PET/CT bone scans, a pilot study
Impact of obstructive sleep apnea on aortic elasticproperties and left ventricular functions inhypertensive and normotensive patients
Effects of iterative reconstruction technique on image quality in cardiac ct angiography: initial experience
Potential shielding for a positron emission tomography (PET) suite
FDG PET/CT detected an insidious inguinal canalmetastasis in a patient with pancreatic cancer
Elective and emergency selective renal artery angiographyand embolization of angiomyolipoma: a report of two cases and review ofthe literature
Early hyperostosis frontalis interna found incidentally by NaF18 PET/CT bone scan
Recurrent extensive idiopathic pneumatosis intestinalisof the small intestine with pneumoperitoneum: Effective treatment with thesurgical intervention
Pseudothrombophlebitis syndrome: Sonographically guided treatment of a partiallyruptured Baker's cyst
The role of Basal HRV assessed through wavelet transform in the prediction of anxiety and affect levels: a case study

Posted: 2012-05-21
More...

Special Issues of Imaging diagnosis (Professor Juan Ren)

To provide a rapid turn-around time regarding reviewing, publishing and to disseminate the articles freely for research, teaching and reference purposes we are releasing the special issues.

We would like to invite you to contribute manuscripts for publication in the Special Issue of Imaging diagnosis.

Benefits of the special issue for contributors/authors: Your manuscript will be open access in full text. The publication fee for these special issue open access articles will be $ 200 only.

 

Posted: 2012-03-15
More...

Call for Paper of JBGC

Now we are in the process of calling for papers for the Vol. 2, No. 1 of Journal of Biomedical Graphics and Computing.

We will publish your work online free of charge if your paper is accepted, the deadline is March 15, 2012. It will be published in June 2012.

Posted: 2011-12-30
More...
Vol 4, No 1 (2014)
Journal of Biomedical Graphics and Computing, Vol. 4, No. 1, 2013, e-Version First TM

Table of Contents
Original Research
Case Report
This work is licensed under a
Creative Commons Attribution 3.0 License
.
Journal of Biomedical Graphics and Computing
ISSN 1925-4008 (Print)   ISSN 1925-4016 (Online)
Copyright © Sciedu Press 
To make sure that you can receive messages from us, please add the 'Sciedu.ca' domain to your e-mail 'safe list'. If you do not receive e-mail in your 'inbox', check your 'bulk mail' or 'junk mail' folders