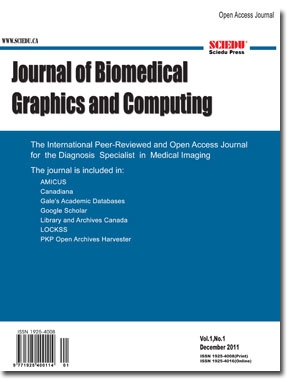 Journal of Biomedical Graphics and Computing (PRINT ISSN 1925-4008, ONLINE ISSN 1925-4016) is a peer-reviewed international scientific and open access journal published by Sciedu Press. JBGC's primary goal is to publish advances in imaging diagnosis, intervention, and development of imaging, graphics and computing in biophysics area. It is published in both online and printed versions.
JBGC is included in:
EBSCOhost
ProQuest
Gale's Academic Databases
Google Scholar
Lockss
PKP Open Archives Harvester
The Standard Periodical Directory
Areas include but are not limited to:
Imaging diagnosis
Magnetic resonance imaging(MRI)
Radiology
Computer-aided diagnosis

Ultrasonic imaging

Augmented-reality medical visualization
Molecular imaging
Nuclear medicine imaging(PET, etc.)
Imaging genomics
Image-guided therapy
Confocal and multiphoton microscopy imaging
Optical micro endoscope imaging
Photoacoustic imaging
Infrared radiation
Scanning techniques(CT, X ray, etc.)
To facilitate rapid publication and minimize administrative costs, The Journal accepts Online submission and Email submission. For online submission, please register and then follow the instructions given.
Sections
Original research, Clinical practice, Reviews, Case reports.
Statistics
2014 Q1: Articles Received: 6; Accepted: 3; Rejected: 2; Published: 4; Retracted: 0
2013: Articles Received: 56; Accepted: 22; Rejected: 13; Published: 45; Retracted: 0
2013 Q4: Articles Received: 13; Accepted: 2; Rejected: 1; Published: 5; Retracted: 0
2013 Q3: Articles Received: 13; Accepted: 9; Rejected: 2; Published: 13; Retracted: 0
2013 Q2: Articles Received: 15; Accepted: 8; Rejected: 3; Published: 13; Retracted: 0
2013 Q1: Articles Received: 15; Accepted: 3; Rejected: 7; Published: 12; Retracted: 0
---------------------------------------------------------------------
What is e-Version FirstTM
e-Version First is a feature offered through our journal platform. It allows PDF version of manuscripts that have been peer reviewed and accepted, to be hosted online prior to their inclusion in a final printed journal. Readers can freely access or cite the article. We aim to publish accepted manuscripts in e-Version First in two week's time after the final draft completed.
---------------------------------------------------------------------
Paper Selection and Publication Process
a). Upon receipt of paper submission, the Editor sends an E-mail of confirmation to the corresponding author within 1-3 working days. If you fail to receive this confirmation, your submission/e-mail may be missed. Please contact the Editor in time for that.
b). Peer review. We use double-blind system for peer-review; both reviewers and authors' identities remain anonymous. The paper will be peer-reviewed by three experts; two reviewers from outside and one editor from the journal typically involve in reviewing a submission. The review process may take 2-4 weeks.
c). Notification of the result of review by E-mail.
d). The authors revise paper and pay publication fee (200.00 USD).
e). After publication, the corresponding author will receive the copy of printed journal, free of charge.
f). E-journal in PDF is available on the journal's webpage, free of charge for download.

NOTE
The publisher and journal have a policy of "Zero Tolerance on the Plagiarism". We check the plagiarism issue through two methods: reviewer check and plagiarism prevention tool (ithenticate.com).
All submissions will be checked by iThenticate before being sent to reviewers.
----------------------------------------------------------
Announcements
Call for Paper of JBGC

Now we are in the process of calling for papers for the Vol. 4, No. 2 of Journal of Biomedical Graphics and Computing.

If you have proper articles, please don't hesitate to submit them to us. We will publish them online first, then send you the hard-copy free of charge when they are printed.

Posted: 2013-12-24
More...

Publication fee of JBGC

The publication fee for each published article in JBGC is $200, effective from July 1, 2012.
Posted: 2012-07-01
More...

Special Issues of Imaging diagnosis (Professor Juan Ren)

To provide a rapid turn-around time regarding reviewing, publishing and to disseminate the articles freely for research, teaching and reference purposes we are releasing the special issues.

We would like to invite you to contribute manuscripts for publication in the Special Issue of Imaging diagnosis.

Benefits of the special issue for contributors/authors: Your manuscript will be open access in full text. The publication fee for these special issue open access articles will be $ 200 only.

 

Posted: 2012-03-15
More...

Journal of Biomedical Graphics and Computing(JBGC) formed first Editorial Review Board

JBGC'S first Editorial Review Board has been established, consisting of more than 70 surgeons, radiologists, researchers and experts in biomedical graphics and computing area.

 

Posted: 2011-09-02
More...
Vol 4, No 2 (2014)
Journal of Biomedical Graphics and Computing, Vol. 4, No. 2, 2014, e-Version First TM
Table of Contents
Original Research
This work is licensed under a
Creative Commons Attribution 3.0 License
.
Journal of Biomedical Graphics and Computing
ISSN 1925-4008 (Print)   ISSN 1925-4016 (Online)
Copyright © Sciedu Press 
To make sure that you can receive messages from us, please add the 'Sciedu.ca' domain to your e-mail 'safe list'. If you do not receive e-mail in your 'inbox', check your 'bulk mail' or 'junk mail' folders