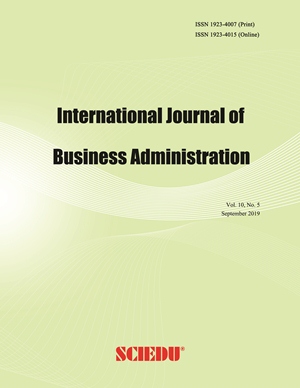 International Journal of Business Administration is devoted to publishing research papers for academics and professors to share advances in business and management theory and practice. Issues that the journal covers include business administration, marketing, management, entrepreneurship, human resources, business innovation, organization theory, accounting, finance and other subjects related with business administration.
This journal is published bimonthly (January, March, May, July, September & November) in both print and online versions. All publications are open access in full text and free to download.
Call for Papers - International Journal of Business Administration
We are calling for submission of papers for the forthcoming issue of Vol. 11, No. 2, March 2020. The length of 3000-8000 words is preferred. All manuscripts should be prepared in MS-Word format, and submitted online.
If you are interested in submitting a paper to this journal, please refer to the Author Guidelines. For any question you have, please contact the editorial office via: ijba@sciedupress.com
---------------------------------------------------------------------------------------------
Statistics
2019: Articles Received: 117; Accepted: 71; Rejected: 32; Published: 44; Retracted: 0
2018: Articles Received: 151; Accepted: 82; Rejected: 56; Published: 66; Retracted: 0
2017: Articles Received: 130; Accepted: 77; Rejected: 38; Published: 60; Retracted: 0
2016: Articles Received: 132; Accepted: 70; Rejected: 42; Published: 66; Retracted: 0
2015: Articles Received: 126; Accepted: 67; Rejected: 46; Published: 67; Retracted: 0
---------------------------------------------------------------------------------------------
ISSUES
---------------------------------------------------------------------------------------------
e-Version FirstTM
e-Version First is a featured way of publishing articles in our journal. It allows PDF version of manuscripts that have been peer reviewed and accepted, to be hosted online prior to their inclusion in a final printed journal. Readers can freely access or cite the article.
---------------------------------------------------------------------------------------------
Each paper published in International Journal of Business Administration is assigned with a DOI®number, which appears beneath the author's affiliation in the published paper. Click HERE to know what is DOI (Digital Object Identifier). And click HERE to retrieve Digital Object Identifiers (DOIs) for journal articles, books, and chapters.
---------------------------------------------------------------------------------------------
Paper Selection and Publication Process
a). Upon receipt of paper submission, the Editor sends an E-mail of confirmation to the corresponding author within 1-2 working days. If you fail to receive this confirmation, your submission/e-mail may be missed. Please contact the Editor in time.
b). Peer review. We use double-blind system for peer-review; both reviewers and authors' identities remain anonymous. The paper will be peer-reviewed by three experts; two external reviewers and one editor from the journal typically involve in reviewing a manuscript. The review process may take 2 weeks.
c). Notification of the result of review by E-mail.
d). The authors revise paper and pay publication fee (300USD).
e). After publication, the corresponding author will receive two hard copies free of charge.
f). E-journal in PDF is available on the journal's webpage for download, free of charge.

NOTE:
The publisher and journal have a policy of "Zero Tolerance on the Plagiarism". We check the plagiarism issue with two methods: reviewer check and plagiarism prevention tool (iThenticate).
All submissions will be checked by iThenticate before being sent to reviewers.
Announcements
Call for Special Issue on Global Trade and WTO

Proposal for Papers:

Linking the economies with global world has become imperative for all countries of the world and this process is called globalization. Accordingly, world has become one village. Hence, free movement of goods and services is become the need of the hour. Creation of trade opportunities and their felicitation always require planning and regulation. Financing exports through imports is being considered as a major vehicle for promotion of world trade. China is the most appropriate instance in this regard. It is firmly believed that gains arising out of the world trade should be shared by all the countries of the world irrespective of members of the WTO.
The Second World War had created two forums namely- General Agreement on Tariffs and Trade (GATT) which was known as "rich countries club "and United Nations Conference on Trade and Development (UNCTAD) called as "Poor countries club" Both the organizations had failed in playing their respective role in regulating and promoting world trade for which these intuitions had been created. The result was that global trade had not witnessed the significant expansion of trade opportunities among the members' countries in particular and other non member countries in general. Therefore, it had been realized by developed and developing countries that the role of global trade should be expanded, and accordingly, GATT had been replaced by World Trade Organization (WTO) on January 1, 1995. The very purpose of the transformation of GATT into WTO was to create fair and equitable machinery for overseeing the implementation of agreements, monitoring and surveillance, capacity building and dispute settlement, which were missed under GATT so that the world trade could be properly and effectively created more opportunities and facilitated them in the right perspective and direction.
What is immediately needed is that the evaluation be made in terms of existence of WTO and its role and contribution to the world trade. There is also a need to examine critically how WTO has been successful in attaining its objectives as well as how the WTO performing its functions?
In order to promote multilateral trading system which is under danger (new concept of regionalism is coming up), the role and contribution of WTO is of strategic importance.

 

Posted: 2018-04-10
More...

Policy Change of Free Print Journals

As you may be aware, printing and delivery of journals result in causing a significant amount of detrimental impact to the environment. Being a responsible publisher and being considerate for the environment, we have decided to change the policy of offering free print journals for authors.

From July 1, 2018, we will not automatically provide authors with free print journals. However, if authors really need free print copies, they are requested to kindly complete an application form to order printed copies. Once we approve, we will arrange printing and delivery, for a maximum of two copies per article.  If authors require more than two copies, they are requested to order online at: store.sciedupress.com.

Additionally, we are happy to provide journal's eBook in PDF format for authors, free of charge. The eBook is the same as the printed version, but it is completely environmentally friendly. Please contact the journal editor to request eBook of the journal's issues.

We are committed to saving the planet for our future generations.
Posted: 2018-01-25
More...

Recruitment of Reviewers

We are recruiting reviewers for the journal. If you are interested, you are welcome to join us. Please find the application form and details at: http://sciedupress.com/reviewer

Posted: 2015-03-12
More...
Vol 11, No 2 (2020)
e-Version FirstTM (Vol. 11, No. 2, March, 2020)
Table of Contents